QuickAdvice: Learn More About The Bible With The Good News Bible
"I really can't imagine what more a Bible app could possibly contain." - Karen Freeman - AppAdvice

Good News Bible
"This app is Bible galore. All 66 books of the bible are presented in a clear easy to read format for your iPad and iPhone.
Each book is covered with a quick summary and is written in an easy to understand language, with a built in dictionary."

Good News Bible Acts as Educational Tool, Handy Mobile Text
"Users not only have the Bible's full text in the palm of their hand at any moment, but also an educational tool that teaches and tests the extent of your Bible knowledge. The Good News Bible has left no stone unturned!" - A. Papachristos (iPhoneAppReview)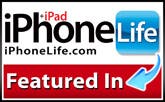 Good News Bible app - a great gift for children or new believers!
"Read the complete Bible and learn about the Bible, all in one app! Scrolling Illustrated Timeline of the Bible – this is really neat!, Who's Who Guide – I love this, too!, Quizzes - FUN!. Bottom Line: This is a great app and well worth the money" - By Cindy Downes

Review of iPhone Bible App : Good News Bible
"This iPhone app will make Bible accessible to you 24hours a day on your iPhone. Cool, isn't it?"
Colorful and Interactive Bible: Good News Bible App
"Who can go wrong with more pictures? This App is definitely a very colorful one with deep interaction including quizzes,
reading plans, dictionary, and more.