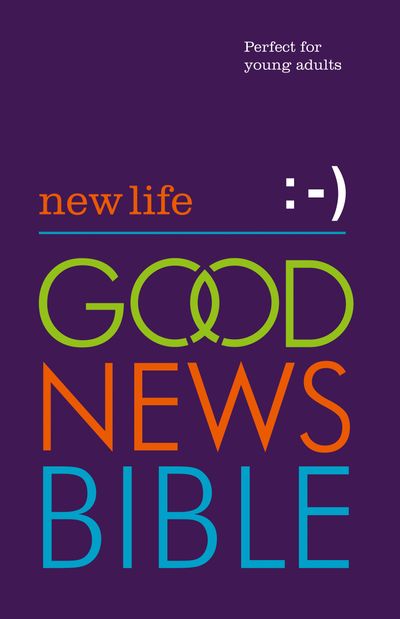 New Life Good News Bible
(GNB)

: Perfect for young adults
2016 BIBLE OF THE YEAR – CRT Awards 2016
The perfect Bible for young adults – accessible, relevant and enjoyable.
This version of the Good News Bible is absolutely unique and ideal for young adults (aged 12+) who are discovering what the world has to offer and who are eager to find out what the Bible has to say about it all – in depth, yet in an enjoyable and very accessible way.
It is the only edition to include a 64-page section of colourfully illustrated and down-to-earth articles offering summaries of Biblical teaching on everyday contemporary issues such as the Internet, food, abortion, sexuality, poverty, the media and much more.
As well as the much-loved, and now classic, line drawings by Annie Vallotton – including many previously unseen original drawings, published for the first time in this edition – there are also newly written introductions to each book of the Bible, specially crafted for this brand new edition by the bestselling author of "The Bible Book" Nick Page.
Also provided are new navigational features in the headers and margins to help young people find their way around with ease. Their Bible reading time will be even more enjoyable and educational with the following extra helps:
20 must-read passages • The life of Jesus • A guide to the Christian year • How did we get the Bible? • Easy access contents lists inside the front and back covers • Side-bar navigation • Ultra-clear text and Bible maps • British English text
With all this and much more, the New Life edition really is the full package bringing the widely read and highly trusted Good News translation to life – and engaged with the world around us.
'I like the fact that the GNB is set out in the traditional style of a Bible, preparing children to use other versions as they grow up, which in the classroom situation is ideal when the children can be guided through it.'Mr N. Hawker, Deputy Head, Polwhele House School, Cornwall -
"'Too many people read the Bible with a severe face, but I say no, the Bible is not that. The Bible is life, and it is wonderful!" - - Annie Vallotton, Illustrator.