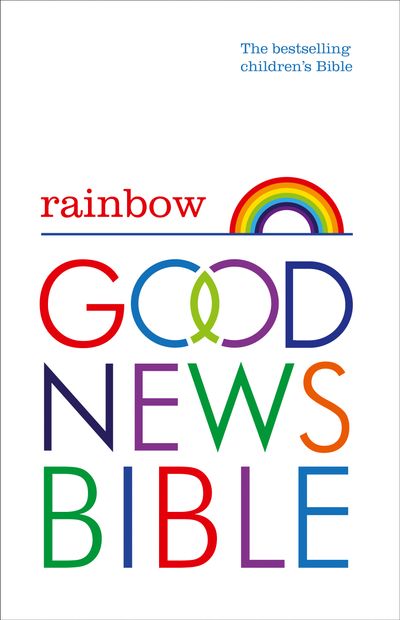 Rainbow Good News Bible
(GNB)

: The Bestselling Children's Bible
2016 BIBLE OF THE YEAR – CRT Awards 2016
A bright, lively new edition of the UK's bestselling Bible, perfect for helping children to enjoy and engage with the Bible.
The perfect choice for a child's first full-text Bible, the Rainbow Good News Bible is recommended both by primary school teachers for use in class, as well as in church Sunday schools. Along with the classic, much-loved line drawings by Annie Vallotton – including many previously unseen original drawings – the Rainbow GNB retains the 24 beautiful full-colour paintings of children's favourite Bible stories.
Brand new short introductions to each book have been written especially for children by Nick Page, bestselling author of "The Bible Book", who has included a brief synopsis of each book's theme (e.g. for Genesis, "It's all about…BEGINNINGS").
Also provided is a unique range of NEW features to help young children get the most out of the Bible and to find their way around:
20 must-read passages • The life of Jesus • A guide to the Christian year • How did we get the Bible? • Timeline of the Bible • Clear headers and footers & side-bar navigation
The Rainbow Good News Bible will help to instil a love of Bible reading in children, with a translation that is both accessible and trustworthy.
"'The Rainbow GNB is perfect because it is a translation which is accessible, which does not compromise the dignity or complexity of the stories, but also maintains a certain degree of challenging language. I like the fact that the GNB is set out in the traditional style of a Bible, preparing children to use other versions as they grow up, which in the classroom situation is ideal when the children can be guided through it." - -Mr N. Hawker, Deputy Head, Polwhele House School, Cornwall
"'Too many people read the Bible with a severe face, but I say no, the Bible is not that. The Bible is life, and it is wonderful!" - - Annie Vallotton, Illustrator.